Wine & Dine at Solitude Mountain Resort
Restaurants & Dining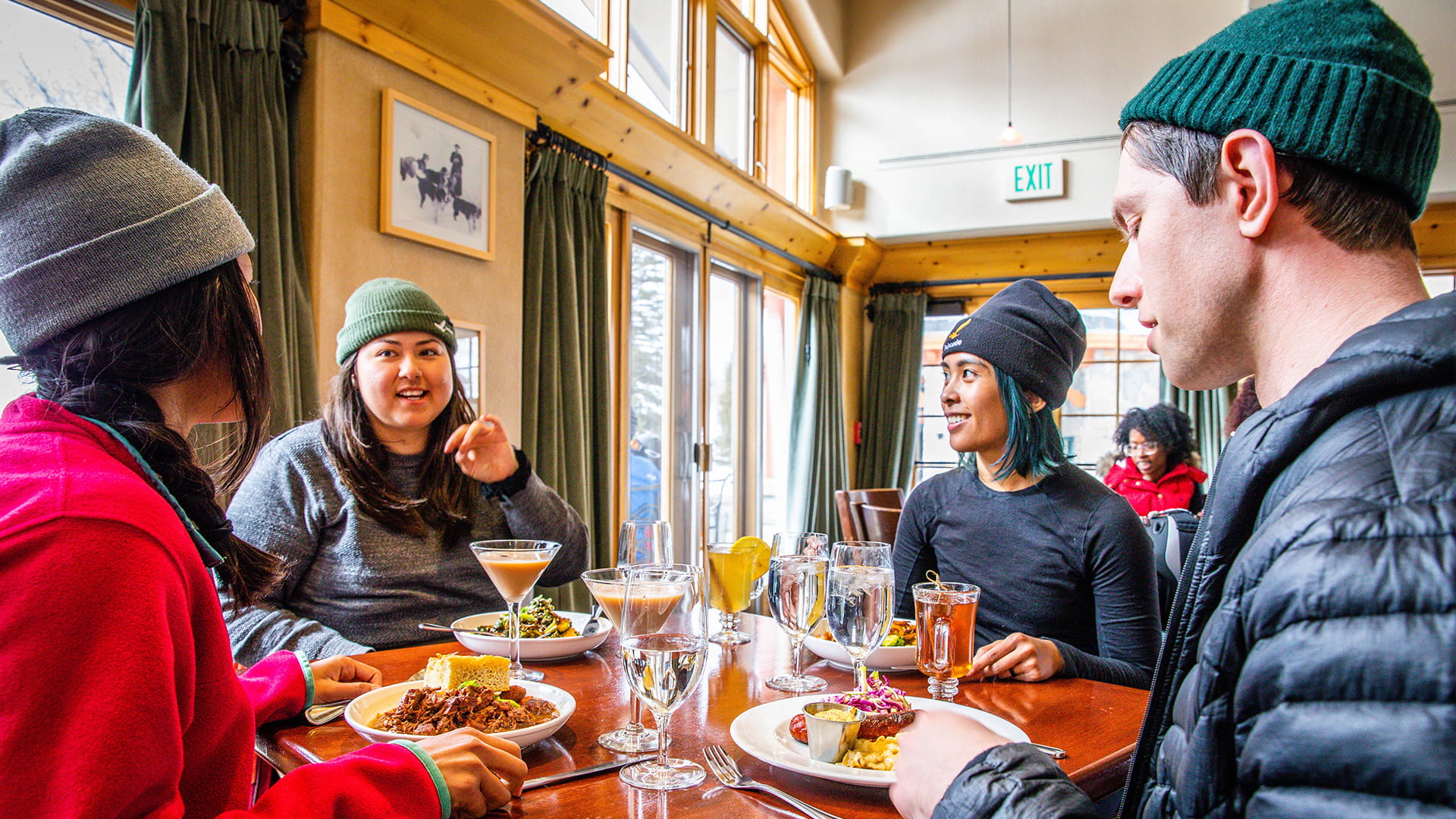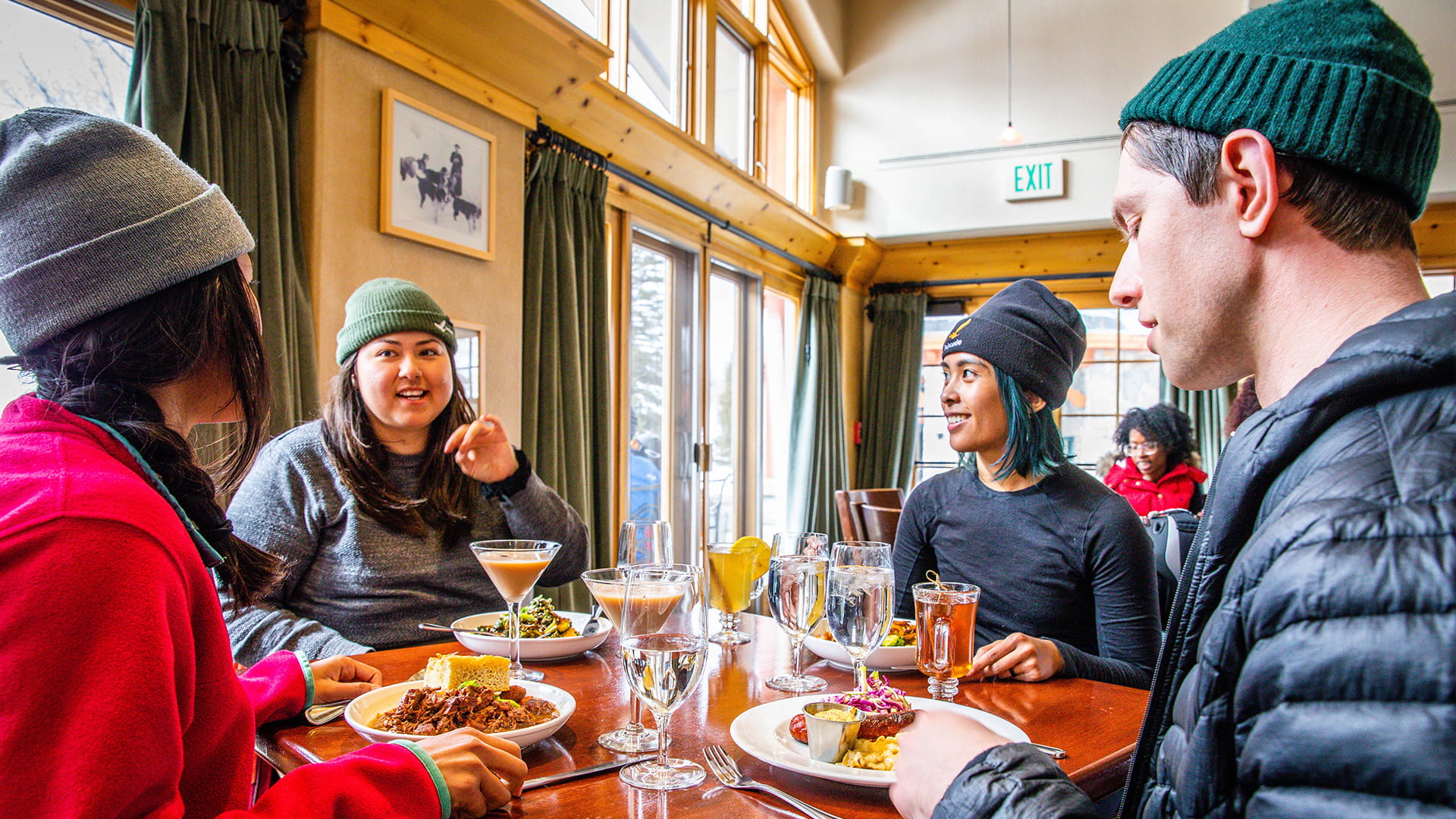 carousel-component
From award-winning family favorites to flavorful convenience, Solitude Mountain Resort offers exactly what you are craving during or after a day on the mountain. You will find a variety of restaurants both on and off the slopes. Every meal is served with a side of scenery from our friendly, unhurried staff.
rich-text, responsive-table
No Restaurants Found. Please try checking your filters.
activity-results-v2
[{"pageId":"{018f9739-2d72-429a-8d26-01288c1cc344}","isAddedToPlanner":false,"subtitle":"Mountain casual — open for winter","targetUrl":"/mountain-and-village/dining/honeycomb-grill","imageUrl":"/-/media/solitude/dining-images/honeycomb-grill/2021-12-14_sm_honeycombgrill_0013.jpg?rev=13233414a8324914a717c5ef0419ab5f?h=1080&w=1920&hash=A19AE0FE8851186013C8A55851ABF283","externalLink":"","externalLinkTarget":"","hasExternalLink":false,"types":[{"name":"Dinner","description":"","class":"no-font-icon","displayName":"Dinner","sortOrder":100,"isHidden":false,"tagType":"types","imageUrl":""},{"name":"Lunch","description":"","class":"ico-bag","displayName":"Lunch","sortOrder":100,"isHidden":false,"tagType":"types","imageUrl":""},{"name":"Apres","description":"","class":"no-font-icon","displayName":"Après","sortOrder":100,"isHidden":false,"tagType":"types","imageUrl":""}],"locations":[{"name":"Village","description":"","class":"ico-map_pin","displayName":"Village","sortOrder":100,"isHidden":false,"tagType":"location","imageUrl":""}],"seasons":[{"name":"Winter","description":"","class":"ico-snowflake","displayName":"Winter","sortOrder":100,"isHidden":false,"tagType":"seasons","imageUrl":""},{"name":"Summer","description":"","class":"ico-sun","displayName":"Summer","sortOrder":100,"isHidden":false,"tagType":"seasons","imageUrl":""}],"imageCropFocus":"img-crop-focus-center-center","hasButtonCtaText":false,"buttonCtaText":"","imageAlt":"three friends starting their meal at Honeycomb Grill","name":"Honeycomb Grill"},{"pageId":"{dc8cf56e-abce-43b4-8f7e-b69dc61f1944}","isAddedToPlanner":false,"subtitle":"Quick & convenient — open for winter","targetUrl":"/mountain-and-village/dining/stone-haus-pizzeria-and-creamery","imageUrl":"/-/media/solitude/dining-images/stone-haus/outdoor-dining-at-stone-haus.jpg?rev=0559e00a0fb942cbb8ba33b34ed30021?h=1080&w=1920&hash=7BE3A86D83CADFD755FDFE9C392013E4","externalLink":"","externalLinkTarget":"","hasExternalLink":false,"types":[{"name":"Breakfast","description":"","class":"ico-sun","displayName":"Breakfast","sortOrder":100,"isHidden":false,"tagType":"types","imageUrl":""},{"name":"Lunch","description":"","class":"ico-bag","displayName":"Lunch","sortOrder":100,"isHidden":false,"tagType":"types","imageUrl":""},{"name":"Dinner","description":"","class":"no-font-icon","displayName":"Dinner","sortOrder":100,"isHidden":false,"tagType":"types","imageUrl":""}],"locations":[{"name":"Village","description":"","class":"ico-map_pin","displayName":"Village","sortOrder":100,"isHidden":false,"tagType":"location","imageUrl":""}],"seasons":[{"name":"Summer","description":"","class":"ico-sun","displayName":"Summer","sortOrder":100,"isHidden":false,"tagType":"seasons","imageUrl":""},{"name":"Winter","description":"","class":"ico-snowflake","displayName":"Winter","sortOrder":100,"isHidden":false,"tagType":"seasons","imageUrl":""}],"imageCropFocus":"img-crop-focus-center-center","hasButtonCtaText":false,"buttonCtaText":"","imageAlt":"Three friends enjoying a pizza at Stone Haus","name":"Stone Haus Pizzeria & Creamery"},{"pageId":"{dfed6840-8b9a-42cd-9724-4a984caf3d8b}","isAddedToPlanner":false,"subtitle":"Laid back apres — open for winter","targetUrl":"/mountain-and-village/dining/thirsty-squirrel","imageUrl":"/-/media/solitude/dining-images/the-thirsty-squirrel/2022-01-07_sm_thirstysquirrel_0014.jpg?rev=612e27184ad7465bbac864d483ccd158?h=1350&w=2400&hash=A6A205C14A59F9915ECD749A284CECCD","externalLink":"","externalLinkTarget":"","hasExternalLink":false,"types":[{"name":"Apres","description":"","class":"no-font-icon","displayName":"Après","sortOrder":100,"isHidden":false,"tagType":"types","imageUrl":""},{"name":"Lunch","description":"","class":"ico-bag","displayName":"Lunch","sortOrder":100,"isHidden":false,"tagType":"types","imageUrl":""},{"name":"Dinner","description":"","class":"no-font-icon","displayName":"Dinner","sortOrder":100,"isHidden":false,"tagType":"types","imageUrl":""}],"locations":[{"name":"Village","description":"","class":"ico-map_pin","displayName":"Village","sortOrder":100,"isHidden":false,"tagType":"location","imageUrl":""}],"seasons":[{"name":"Summer","description":"","class":"ico-sun","displayName":"Summer","sortOrder":100,"isHidden":false,"tagType":"seasons","imageUrl":""},{"name":"Winter","description":"","class":"ico-snowflake","displayName":"Winter","sortOrder":100,"isHidden":false,"tagType":"seasons","imageUrl":""},{"name":"Year Round","description":"","class":"ico-circle","displayName":"Year Round","sortOrder":100,"isHidden":false,"tagType":"seasons","imageUrl":""}],"imageCropFocus":"img-crop-focus-center-center","hasButtonCtaText":false,"buttonCtaText":"","imageAlt":"Friends laughing over drinks at The Thirsty Squirrel","name":"The Thirsty Squirrel"},{"pageId":"{db49c40f-1c3e-4a08-9aa8-fdee9ad37e46}","isAddedToPlanner":false,"subtitle":"Comfort Food in a warm ambiance — open for winter","targetUrl":"/mountain-and-village/dining/st-bernards","imageUrl":"/-/media/solitude/dining-images/st-bernards/solitude_mountain_resort_es_2023_07_28_stbernards_001.JPG?rev=d0f343131be84a78b81724d5bed3d5d3?h=1080&w=1920&hash=D5AC3CFB186F03B415AA61170D3CFC94","externalLink":"","externalLinkTarget":"","hasExternalLink":false,"types":[{"name":"Breakfast","description":"","class":"ico-sun","displayName":"Breakfast","sortOrder":100,"isHidden":false,"tagType":"types","imageUrl":""},{"name":"Dinner","description":"","class":"no-font-icon","displayName":"Dinner","sortOrder":100,"isHidden":false,"tagType":"types","imageUrl":""}],"locations":[],"seasons":[],"imageCropFocus":"img-crop-focus-center-center","hasButtonCtaText":false,"buttonCtaText":"","imageAlt":"Friends enjoying brunch at St. Bernard's at Solitude Mountain Resort","name":"St. Bernard's"},{"pageId":"{3524301d-6434-4ee1-b1fb-f1e6e3bec37e}","isAddedToPlanner":false,"subtitle":"Sweet treats — open for winter","targetUrl":"/mountain-and-village/dining/little-dollie-waffles","imageUrl":"/-/media/widen/solitude-mountain/stock-photography/food--beverage/little-dollie-waffles/20191210smlittledolliewaffles0037-1-of-1jpg.jpg?rev=e27636b08625445289348a92a479930b?h=1012&w=1800&hash=14912C491630B714C180CEE728DAB2EE","externalLink":"","externalLinkTarget":"","hasExternalLink":false,"types":[{"name":"Lunch","description":"","class":"ico-bag","displayName":"Lunch","sortOrder":100,"isHidden":false,"tagType":"types","imageUrl":""},{"name":"Breakfast","description":"","class":"ico-sun","displayName":"Breakfast","sortOrder":100,"isHidden":false,"tagType":"types","imageUrl":""}],"locations":[{"name":"Moonbeam Center","description":"","class":"no-font-icon","displayName":"Moonbeam Center","sortOrder":100,"isHidden":false,"tagType":"location","imageUrl":""}],"seasons":[{"name":"Winter","description":"","class":"ico-snowflake","displayName":"Winter","sortOrder":100,"isHidden":false,"tagType":"seasons","imageUrl":""},{"name":"Summer","description":"","class":"ico-sun","displayName":"Summer","sortOrder":100,"isHidden":false,"tagType":"seasons","imageUrl":""}],"imageCropFocus":"img-crop-focus-center-center","hasButtonCtaText":false,"buttonCtaText":"","imageAlt":"Skier receives a waffle from Little Dollie Waffle window","name":"Little Dollie Waffles"},{"pageId":"{017ec9ef-0580-4af2-af81-102e65ea8c68}","isAddedToPlanner":false,"subtitle":"Breakfast & lunch — open for winter","targetUrl":"/mountain-and-village/dining/moonbeam-lodge","imageUrl":"/-/media/widen/solitude-mountain/stock-photography/food--beverage/moonbeam-lodge/355-solitude-mountain-resort-winter-moonbeam-restaurant-jpg.jpg?rev=f890467b978e4938b009e64cb9827d67?h=1012&w=1800&hash=9457AE2B022563EBB9A1524ADACCA433","externalLink":"","externalLinkTarget":"","hasExternalLink":false,"types":[{"name":"Breakfast","description":"","class":"ico-sun","displayName":"Breakfast","sortOrder":100,"isHidden":false,"tagType":"types","imageUrl":""},{"name":"Lunch","description":"","class":"ico-bag","displayName":"Lunch","sortOrder":100,"isHidden":false,"tagType":"types","imageUrl":""},{"name":"Apres","description":"","class":"no-font-icon","displayName":"Après","sortOrder":100,"isHidden":false,"tagType":"types","imageUrl":""}],"locations":[{"name":"Moonbeam Center","description":"","class":"no-font-icon","displayName":"Moonbeam Center","sortOrder":100,"isHidden":false,"tagType":"location","imageUrl":""}],"seasons":[{"name":"Winter","description":"","class":"ico-snowflake","displayName":"Winter","sortOrder":100,"isHidden":false,"tagType":"seasons","imageUrl":""}],"imageCropFocus":"img-crop-focus-center-center","hasButtonCtaText":false,"buttonCtaText":"","imageAlt":"Moonbeam Lodge food","name":"Moonbeam Lodge"},{"pageId":"{b4af0d8d-fbaf-4ffa-8dff-a3a2965ddf21}","isAddedToPlanner":false,"subtitle":"Refresh & refuel — open for winter","targetUrl":"/mountain-and-village/dining/argenta-pub","imageUrl":"/-/media/solitude/dining-images/argenta/2021-04-11_sm_argentapubapres_0024.jpg?rev=a83a360f04dc45a7beade1455111077e?h=1012&w=1800&hash=133E9087B9016FDDEE9F6C557E70E2EB","externalLink":"","externalLinkTarget":"","hasExternalLink":false,"types":[{"name":"Apres","description":"","class":"no-font-icon","displayName":"Après","sortOrder":100,"isHidden":false,"tagType":"types","imageUrl":""},{"name":"Lunch","description":"","class":"ico-bag","displayName":"Lunch","sortOrder":100,"isHidden":false,"tagType":"types","imageUrl":""}],"locations":[{"name":"Moonbeam Center","description":"","class":"no-font-icon","displayName":"Moonbeam Center","sortOrder":100,"isHidden":false,"tagType":"location","imageUrl":""}],"seasons":[{"name":"Winter","description":"","class":"ico-snowflake","displayName":"Winter","sortOrder":100,"isHidden":false,"tagType":"seasons","imageUrl":""}],"imageCropFocus":"img-crop-focus-center-center","hasButtonCtaText":false,"buttonCtaText":"","imageAlt":"Argenta Pub","name":"Argenta Pub"},{"pageId":"{5d06f62e-beb0-4983-ac8a-0a470958baaf}","isAddedToPlanner":false,"subtitle":"Himalayan-inspired cafe","targetUrl":"/mountain-and-village/dining/roundhouse","imageUrl":"/-/media/widen/solitude-mountain/stock-photography/food--beverage/roundhouse/2016-03-20-sm-roundhouse-0027.jpg?rev=4e895ccf8fe24b7e8577a74acebc3a1e?h=1012&w=1800&hash=2C64630CA1BD2D602AC11B10B1D142E8","externalLink":"","externalLinkTarget":"","hasExternalLink":false,"types":[{"name":"Lunch","description":"","class":"ico-bag","displayName":"Lunch","sortOrder":100,"isHidden":false,"tagType":"types","imageUrl":""}],"locations":[{"name":"On-Mountain","description":"","class":"no-font-icon","displayName":"On-Mountain ","sortOrder":100,"isHidden":false,"tagType":"location","imageUrl":""}],"seasons":[{"name":"Winter","description":"","class":"ico-snowflake","displayName":"Winter","sortOrder":100,"isHidden":false,"tagType":"seasons","imageUrl":""}],"imageCropFocus":"img-crop-focus-center-center","hasButtonCtaText":false,"buttonCtaText":"","imageAlt":"Roudhouse Inside","name":"Roundhouse"},{"pageId":"{668cd3f8-627b-415e-b8ed-61200793a6fa}","isAddedToPlanner":false,"subtitle":"Convenient breakfast and lunch spot","targetUrl":"/mountain-and-village/dining/last-chance-southwest-grill","imageUrl":"/-/media/widen/solitude-mountain/stock-photography/food--beverage/last-chance-southwest-grill/2019-03-16-sm-springlastchancebeach-0036-jpg.jpg?rev=5fb4258a088d46309652c5a3e479dbe2?h=1012&w=1800&hash=F0F95318291CFADCAC112CE8F6BC7318","externalLink":"","externalLinkTarget":"","hasExternalLink":false,"types":[{"name":"Lunch","description":"","class":"ico-bag","displayName":"Lunch","sortOrder":100,"isHidden":false,"tagType":"types","imageUrl":""},{"name":"Apres","description":"","class":"no-font-icon","displayName":"Après","sortOrder":100,"isHidden":false,"tagType":"types","imageUrl":""}],"locations":[{"name":"On-Mountain","description":"","class":"no-font-icon","displayName":"On-Mountain ","sortOrder":100,"isHidden":false,"tagType":"location","imageUrl":""}],"seasons":[{"name":"Winter","description":"","class":"ico-snowflake","displayName":"Winter","sortOrder":100,"isHidden":false,"tagType":"seasons","imageUrl":""}],"imageCropFocus":"img-crop-focus-center-center","hasButtonCtaText":false,"buttonCtaText":"","imageAlt":"Last Chance Spring outside","name":"Last Chance Southwest Grill"},{"pageId":"{00ee8e1c-1fe4-42fd-8a22-3efdc02a7991}","isAddedToPlanner":false,"subtitle":"World-class dining in an intimate, on-mountain setting","targetUrl":"/mountain-and-village/dining/the-yurt","imageUrl":"/-/media/solitude/dining-images/the-yurt/the-yurt-at-solitude-001.jpg?rev=af367e413fc64f1da46409bbaddfb3e9?h=1080&w=1920&hash=2787989F454C012E317C4A12C0C5EC98","externalLink":"","externalLinkTarget":"","hasExternalLink":false,"types":[{"name":"Dinner","description":"","class":"no-font-icon","displayName":"Dinner","sortOrder":100,"isHidden":false,"tagType":"types","imageUrl":""},{"name":"Lunch","description":"","class":"ico-bag","displayName":"Lunch","sortOrder":100,"isHidden":false,"tagType":"types","imageUrl":""}],"locations":[{"name":"On-Mountain","description":"","class":"no-font-icon","displayName":"On-Mountain ","sortOrder":100,"isHidden":false,"tagType":"location","imageUrl":""}],"seasons":[{"name":"Winter","description":"","class":"ico-snowflake","displayName":"Winter","sortOrder":100,"isHidden":false,"tagType":"seasons","imageUrl":""}],"imageCropFocus":"img-crop-focus-center-center","hasButtonCtaText":false,"buttonCtaText":"","imageAlt":"View of The Yurt at Solitude from Sunrise lift","name":"The Yurt"}]
{"buttonAdd":"Add To Planner","buttonAdding":"Adding","buttonAdded":"Added","noPlannerItemsMessage":"You don\u0027t have any items in your Planner. Add some!","hideAddToPlannerButton":false,"addToPlannerWithHeartDesign":false}