Mountain safety tips and policies for your visit
Mountain Safety
Our commitment to safety extends all year long, both on and off the mountain. To us, being safe on the mountain means more than wearing helmets and putting the bar down, it's who we are. Whether you're dropping into Honeycomb Canyon or cruising groomers off Moonbeam Express, the safety of our guests and staff will always be our top priority.
Your Winter Responsibility Code
KNOW THE CODE - IT'S YOUR RESPONSIBILITY
1. Always stay in control. You must be able to stop or avoid people or objects.
2. People ahead or downhill of you have the right-of-way. You must avoid them.
3. Stop only where you are visible from above and do not restrict traffic.
4. Look uphill and avoid others before starting downhill or entering a trail.
5. You must prevent runaway equipment.
6. Read and obey all signs, warnings, and hazard markings.
7. Keep off closed trails and out of closed areas.
8. You must know how and be able to load, ride and unload lifts safely. If you need assistance, ask the lift attendant.
9. Do not use lifts or terrain when impaired by alcohol or drugs.
10. If you are involved in a collision or incident, share your contact information with each other and a ski area employee.

As a condition and consideration for use of the ski area, the user expressly assumes all risks of injury or death related in any way to snowsports — including the negligence of Solitude Mountain Resort and its employees — while involved with snowsports. The user represents that they are able to load, ride, and unload lifts properly. The user will read all signs and mountain information including the trail map. The right to use the Resort area may be revoked without compensation for violation of this agreement.
Winter Safety Guide
High Altitude

The base of Solitude lies at 8,000 feet above sea level, while the summit of our mountain sits at over 10,000 feet above sea level. At these elevations, the air is thinner and less oxygen is available. Visitors coming from lower elevations may experience altitude sickness, which usually occurs within the first 48 hours of arrival. Symptoms include headaches, nausea, insomnia, and loss of appetite. To help avoid altitude sickness, or to reduce symptoms, it is recommended that you stay well hydrated by increasing your fluid intake and decreasing your consumption of salt, alcohol, and caffeine. High carb, low-fat foods can also help. High elevations can accentuate existing health problems. If you have respiratory or vascular illness, consult your physician prior to your trip. Seek medical assistance if symptoms persist or get worse.

Slippery Surfaces

Use caution when walking at the resort, especially in buildings, on walkways, and in parking lots. Snow and water that melts and freezes can cause surfaces to become slippery any time of the day or night. You can help to prevent a fall by cleaning the snow off the bottom of your ski and snowboard boots. Traction can be improved with footwear that has good treads, or with devices that attach to the bottom of shoes and boots.

Roofalanches
Be cautious of snow falling from roofs. Do not linger or allow children to play near buildings that are covered in snow or that have hanging icicles.

Driving Tips
For improved visibility, thoroughly clear your vehicle of snow and ice from all windows and lights. Because roads can be slick, it is important to keep a safe distance from other vehicles. If you encounter ice, avoid braking and use lower gears to control your speed.

Your last run of the day
End the day on a positive note. Stop skiing or riding with the first signs of fatigue.

Chairlift safety
Your Responsibility Code states that "You must know how and be able to load, ride and unload lifts safely. If you need assistance, ask the lift attendant." If you are unfamiliar with loading or unloading a chairlift, it is your responsibility to ask for assistance from the lift operator. Remove backpacks prior to loading the chairlift. Before unloading, ensure all straps and buckles are not caught in the chair. When children are riding a chairlift, we encourage the use of a restraint bar when available. However, using the restraint bar does not guarantee the safety of the passengers. Sit back, hold on, look forward, and don't fool around.

Children's Chairlift Code of Conduct
Please take an active role in educating children to load and unload chairlifts safely.

Behave, be aware, and be respectful of others when you are in line, loading the chair, riding the chair, and unloading the chair.
When you are loading the chair, move promptly from the WAIT HERE board to the LOAD HERE board when the chair in front of you passes. Keep your skis or snowboard straight.
At the LOAD HERE board:

If you carry poles, hold them in your inside hand. Make sure your pole straps are not around your wrist
Look back and to the outside for the on-coming chair
Grab on to the chair (side, back, or top of seat) as it approaches
Use the restraint bar if you can do so safely; politely announce that the bar is being lowered

While you are riding the chair, sit back, hold on, look forward, and don't fool around. Do not play with skis or boards and do not play with the restraint bar
If the lift stops, do not turn around, bounce, or otherwise play
When you are preparing to unload the chair, politely announce that the restraint bar is being raised
Keep your ski or snowboard tips up and straight ahead
After you unload the chair:

Move away from the unloading ramp
Stay out of the way of others

If you fail to unload:

Sit back and hold on
Wait for the operator


On the Slopes
If you have not skied before, we recommend that you take a lesson. The Solitude Ski & Ride School is staffed by trained instructors who provide a more effective and safer learning environment than learning on your own or from a friend. They can also help you to become familiar with the mountain.
Read the loading and lift information boards. If uncertain how to load or unload a certain chairlift, ask the operator or attendant for help. Sit back while on the chair.
Remove backpacks prior to loading the lift. Ensure that straps and buckles are clear of the chair while unloading the lift.
We recommend skiing or snowboarding with a partner. Arrange a meeting place and time in the event anyone in your group becomes separated. Notify someone in your group if you decide to leave the resort.
To avoid a collision, it is best to be predictable when skiing. Avoid suddenly swerving from the direction you have been travelling.
There are 50% more UV rays at 10,000 feet of elevation than at sea level, and as such, the sun's intensity is far greater at this altitude. Always wear eye and skin protection, even on cloudy days.
If you drop anything from a chairlift into a closed area or onto a run too difficult for your ability, note the number of the nearest lift tower and report it to the attendant at the top of the chairlift. Ski Patrol will attempt to retrieve it and leave it at the bottom of the lift.
Observe the areas posted as "Slow" and slow down, no matter your ability level. Fast or reckless skiing and riding can result in injury to you or others and the loss of your lift ticket or pass.
Trail ratings are different on every mountain. Solitude's trail ratings are relevant to the terrain here, and canvary from other resorts. Start on easier runs before attempting more difficult runs.
Pay attention to message boards at the bottom of chairlifts for any messages from Ski Patrol.
Sledding or tubing is not allowed at Solitude.
Any activity other than downhill skiing or snowboarding may be prohibited within the ski area.
Snowcats, snowmobiles, and snowmaking or other equipment may be encountered at any time. Stay clear.
It is your responsibility to learn which trails and terrain areas are open. Access to avalanche prone terrain is available through "open" gates only.
Fencing, poles, padding, and other markings are intended to alert you to certain hazards, not to protect you from injury. Not all obstacles are marked.
We discourage the use of music players and cell phones (including cell phone earpieces) while loading and unloading chairlifts.
Be alert for wildlife, and do not feed or approach any wildlife that you encounter.
Watch for falling limbs and trees.

Share the slopes and enjoy a lifetime of skiing.



Electronic Devices


Solitude Mountain Resort strongly discourages the use of cell phones and electronics devices that use headphones or earphones while skiing or snowboarding, and while loading and unloading the chairlifts.

Avalanche Safety

Solitude Mountain Resort is located in the Wasatch Mountains, which are known for its iconic powder skiing. But because of the nature of the snow and terrain, avalanches are an inherent risk of recreating in the mountains. While mitigation efforts from our Ski Patrol help reduce the risks, avalanches may occur within the resort boundaries during operating hours. Although rare, it is possible to be caught in an avalanche within the ski area boundary.

Access to avalanche prone terrain is only allowed through "open" gates. Entering closed areas by ducking under rope lines, hiking from the bottom of a rope line, or through a "closed" gate is unlawful and punishable by the loss of skiing or snowboarding privileges and a Class B misdemeanor citation.

Most avalanche prone terrain at Solitude is rated as black diamond and double black diamond. These areas are recommended for expert skiers and riders only.

Become educated on how to reduce the risk of injury or death from avalanches through your own actions and awareness. It is your responsibility to know and practice safe skiing and snowboarding techniques while in avalanche prone terrain.

Solitude's Ski Patrol utilizes the Recco system in avalanche searches.

Solitude has an avalanche beacon park available to practice searching. The beacon park is located skier's left of the SolBright trail above Headwall Forest, and can be accessed by Summit Express chairlift. The park offers four buried targets for single and multiple burial practice. The availability of the park is weather dependent.

If you choose to ski or snowboard in avalanche prone terrain, we recommend the following:

Educate yourself by taking an avalanche education course
Carry an airbag pack, avalanche transceiver, shovel, and probe and know how to use them
Use equipment or clothing that utilizes the Recco system
Travel with a partner
Practice safe travel technique• Have a plan and know where you are going
Ski one at a time and keep in visual contact with your partner(s)
If caught in an avalanche, fight like hell to stay on top of the snow
If caught in an avalanche, attempt to create an airspace in front of your face as soon as you stop moving
If caught in an avalanche, call for help. Let Ski Patrol know you or your partner were involved in an avalanche.

Visit avalanche.org, utahavalanche.org, and recco.com for more information on the risks and prevention of avalanche related injuries and death.
Backcountry Safety
Access into lift-served backcountry terrain is permitted through "open" gates only. It is unlawful to access backcountry terrain by ducking under ropes or through "closed" gates. It is unlawful to reenter Solitude from the backcountry through closed terrain. Backcountry terrain is not patrolled or maintained. Avalanche mitigation work is not conducted in the backcountry. Ski or snowboard backcountry terrain at your own risk.

You are responsible for your own rescue. Good decision making and partner rescue is you best chance of surviving an avalanche. Rescues may take an extended amount of time, resulting in hypothermia. If you need to be rescued, you are not only putting your party's lives at risk, but those of the rescuers as well.
Call 911 for rescues in the backcountry.

If you choose to ski or snowboard in the backcountry, please take note of the safety tips under "Avalanche Safety."


Boot Packing
Fantasy Ridge, Highway to Heaven, and Evergreen Peak

Solitude Mountain Resort has a considerable amount of terrain that is only accessible by hiking. The majority of this terrain is rated double black diamond, and the hikes can be very difficult and may require expert climbing skills. Hiking is required from the Highway to Heaven area in order to return to lift-serviced terrain. To access the Fantasy Ridge terrain area, each individual must carry an avalanche transceiver, shovel, probe, and backpack or equipment carry system and check in with ski patrol at the top of Summit Express before proceeding. Falls in these areas can result in serious injury or death. Hiking at altitude requires a high degree of physical fitness and is recommended for expert skiers and snowboarders only.

These areas have avalanche prone terrain. Access to these areas is permitted through "open" gates only. Rescues in these areas may take an extended amount of time due to the remoteness and difficulty of the terrain.

If you choose to hike to or out of this terrain, we recommend the following:

Use a backpack to carry your skis or snowboard while hiking so that you have your hands free for better balance and travel
Travel with a partner
Have a plan and know where you are going
Be prepared to assist in your own rescue by carrying extra clothing, a first aid kit, extra food, and water
Carry an avalanche transceiver, shovel, and probe and know how to use them (this avalanche gear is required to access Fantasy Ridge).
Minors should be accompanied by a responsible adult
Mountain Biker's Responsibility Code
Mountain biking involves risk of serious injury or death. Your knowledge, decisions, and actions contribute to your safety and that of others. Please note that trails are not cleared at the end of the day, and we recommend that you ride with a buddy at all times.



ALWAYS


1. STAY IN CONTROL. You're responsible for avoiding objects and people.
2. KNOW YOUR LIMITS. Ride within your ability. Start small and work your way up.
3. PROTECT YOURSELF. Use appropriate bike, helmet, and protective equipment.
4. INSPECT AND MAINTAIN YOUR EQUIPMENT. Know your components and their operation prior to riding.
5. BE LIFT SMART. Know how to load, ride, and unload lifts safely. Ask if you need help.
6. INSPECT THE TRAILS AND FEATURES. Conditions change constantly; plan and adjust your ride accordingly.
7. OBEY SIGNS AND WARNINGS. Stay on marked trails only. Keep off closed trails and features. Ride in the direction indicated.
8. BE VISIBLE. Do not stop where you obstruct a trail, feature, or landing, or where you are not visible.
9. LOOK AND YIELD TO OTHERS. Look both ways and yield when entering or crossing a road or trail. When overtaking, use caution and yield to those ahead.
10. COOPERATE. If you are involved in or witness an accident, identify yourself to staff.
11. NO DRONES. The use of drones is not allowed at Solitude Mountain Resort.
12. NO SMOKING. Smoking is not allowed on the mountain due to fire concerns.
Mountain Bike Checklist
Mountain bike trails are rough and demanding on both the bike and body. Before riding, always inspect your equipment or have it checked by a qualified bike mechanic.

1. Helmets are required at Solitude. Ensure your helmet is in good shape and properly adjusted.
2. Inspect bike frame, fork, and other components for cracked, damaged, or dented areas.
3. Check that your brake pads are in good condition and are not worn.
4. Front and rear axles (skewers) should be tight.
5. Headset and stem must be secure with no looseness or play.
6. Check that your tires are in good condition with no tears or cuts in the sidewall.
7. Handle bar and handle grips must be tight and unable to spin.
8. Seat and seat post must be fastened securely.
Summer Safety Guide
Our summer slopes offer an on-mountain playground for all ages, but before you begin your day of adventure remember to check the weather and trail conditions, and then pack the essentials. Use this handy checklist to prepare.
Consider the weather
Summer weather in the mountains can change drastically in a matter of hours, or sometimes minutes. Rain, hail, and even snow are a possibility when you are at high elevation.


When hiking, choose appropriate footwear
For a short day hike that does not involve a heavy pack of technical terrain, sneakers or trail shoes will work well. If you are traveling over more technical terrain or carrying a heavy load, hiking boots are recommended.


Bring extra food
Any number of things can keep you out longer than expected – such as getting lost, enjoying time by a stream, an injury, or difficult terrain. Extra food will help boost energy and morale.


Bring extra water
Hydrating during a high-altitude adventure is key to avoiding dehydration. Consuming too little water will make you more susceptible to altitude sickness and hypothermia.


Carry rain gear and extra clothing
Dressing in layers allows you to adjust to changing weather and activity levels. Avoid cotton (it keeps moisture close to your skin) and always carry a hat.


Wear sunscreen and sunglasses
If you are above tree-line when there is a skin-scorching combination of sun and late season snow, you will need sunglasses to prevent snow blindness. Sunscreen is also essential, especially because the summer months at high altitude can deliver 40% – 50% greater sun intensity than at sea level.


Carry a map and compass/GPS
A map and compass not only tell you where you are and how far you have to go, but they can also help you find campsites, water, and an emergency exit route in the event of an accident. While GPS units are very useful, always carry a map and compass as a backup.


Hiking at high elevation
The high-elevation backcountry of the Wasatch Mountains is an explorer's wonderland, but recreating at high altitude has significant effects on the human body and mind. Above 8,000 feet, altitude sickness affects 20-30 percent of visitors from low elevations to some degree. The first thing most people notice is a shortness of breath, especially when exercising. In addition, your heart is likely to beat faster and one may develop nausea, unusual tiredness, and headaches. Those with one or more of these symptoms may have Acute Mountain Sickness (AMS). If the symptoms do not subside quickly, call a doctor. Most importantly, listen to your body. Do not push the limits of your physical capabilities.


On-mountain vehicles & construction
The majority of mountain improvements and repairs to our facilities occur during the summer months, so guests should always be observant of construction hazards. Stay out of any construction zones or roped off areas. Vehicle access to Solitude Mountain Resort is limited to company vehicles or those having legitimate, approved business on the mountain. Vehicles may be encountered at any time, and terrain may temporarily be closed for maintenance.


Multi-use Trails
All summer trails and roads are multi-use and shared among hikers, bikers, disc golfers, and vehicles. Please be aware of flying discs.
Chairlifts
Climbing on chairlifts and towers is not allowed. Summer maintenance is frequent, chairlifts may start without warning.




Lightning & thunderstorms


The weather is notorious for changing quickly in the mountains. In the summer, that means you should be on the lookout for afternoon thunderstorms. If you notice one approaching, seek shelter when possible. Hike or bike with a rain jacket and other appropriate gear, know your surroundings and if inclement weather is approaching be sure to avoid ridgetops, lift houses, lift towers, power lines, open ski runs, fences, signposts, and the tallest tree or object in your vicinity.


Wildfire
No smoking, please. The fire danger in this area is very high during the summer. If you see, a wildfire please call 911 immediately.


Local wildlife & wildflowers
It's important to us to be stewards of the environment by interacting with our local flora and fauna respectfully and safely, and we ask our guests to do the same. That includes limiting travel to designated hiking and biking trails. If you encounter a wild animal, remain calm and back away slowly to ensure it does not feel threatened. Never approach or feed wildlife. Leave wildflowers and plants in their native spaces.
Chairlift Safety
• Be familiar with the type of lift you are riding, and ask for help if you need it.
• Before loading, remove backpacks and secure loose items. Remove pole straps from wrists.
• Look over your shoulder to watch the chair approach.
• Sit all the way in the chair, with your back to the seat rest.
• If the lift has a restraint bar, wait until everyone is seated, and slowly reach up and lower the bar. Do not attempt to lower the bar if you cannot reach it! Adults should always help kids to lower the bar.
• Be aware of your surroundings while riding the lift. If you drop something, let it fall! You can always ask ski patrol for help retrieving the lost item.
• As you approach the top terminal, prepare to raise the bar. Look for signs advising you to do so to help with your timing.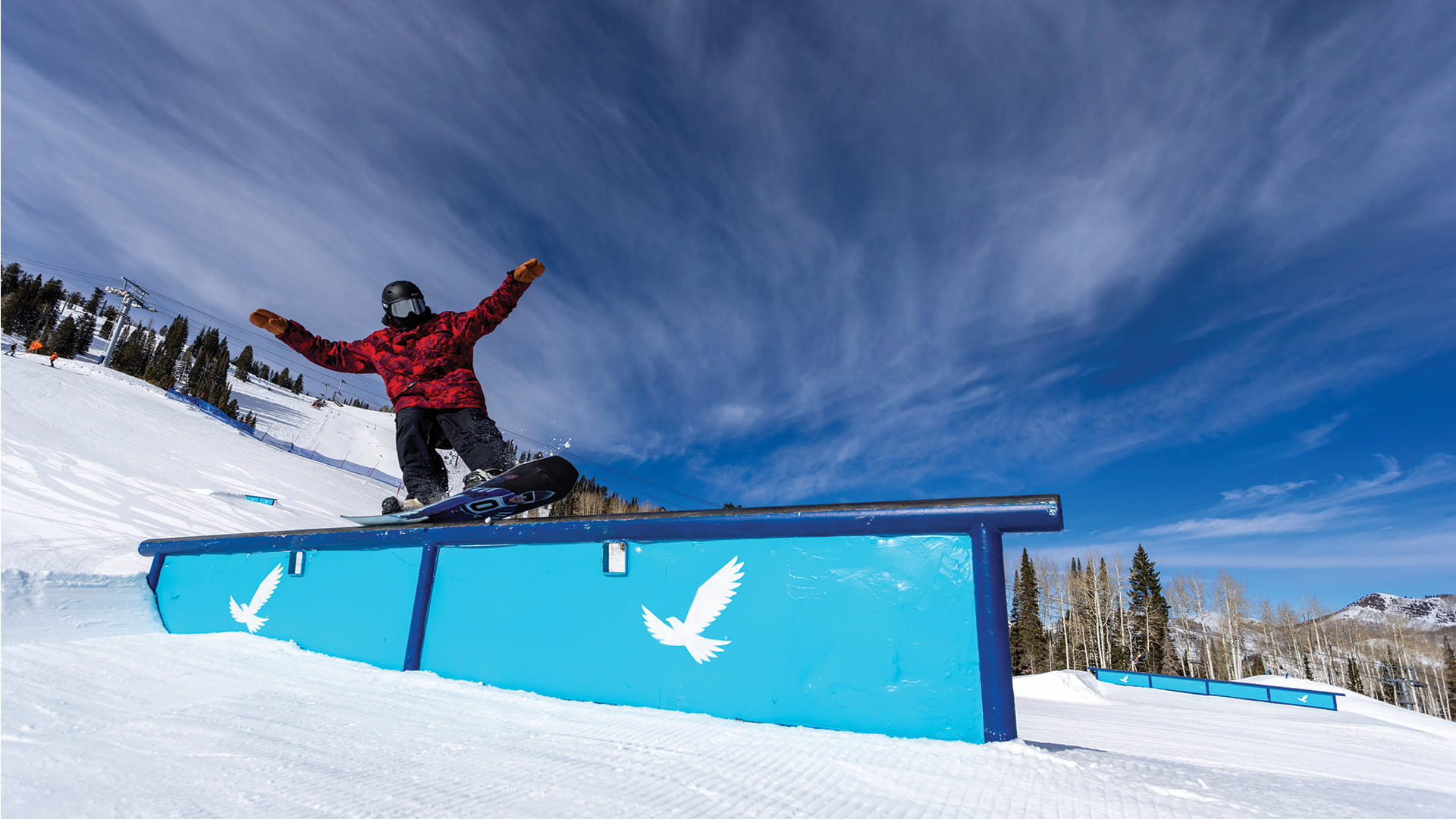 Terrain Park Safety
Whenever skiing or riding any freestyle terrain park features, remember to be "park smart".

Start Small - Work your way up. Build your skills.
Make A Plan - Every feature. Every time.
Always Look - Before you drop.
Respect - The features and other users.
Take It Easy - Know your limits. Land on your feet.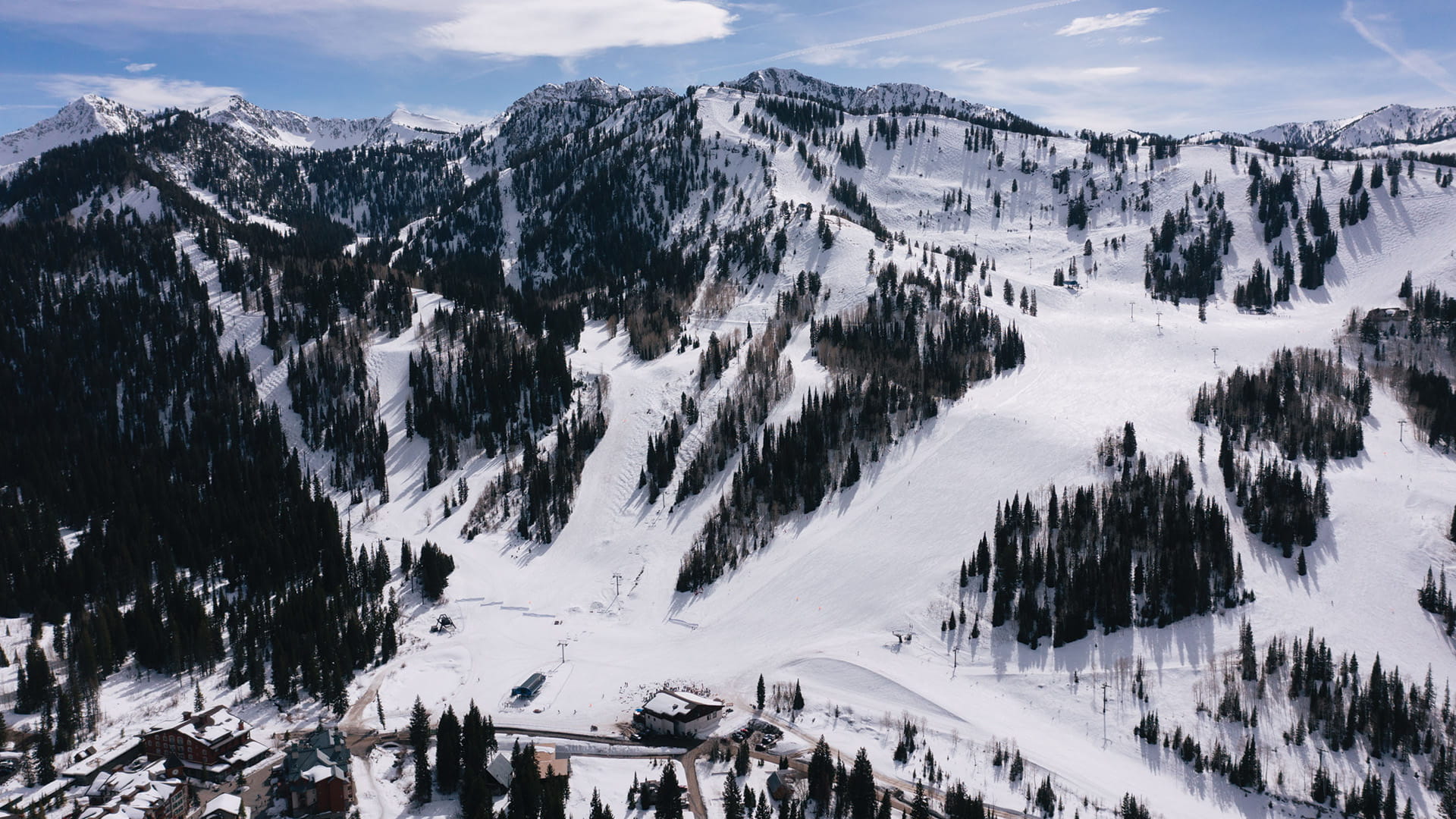 Collision Safety
There are three steps every skier and rider can take to avoid collisions

1. Be Ready
Prepare to slow down to avoid objects or other people at any time. Ski and ride in such a way that you are always able to control yourself regardless of conditions and avoid others and objects you may encounter.

2. Stay Alert
Stay alert to what's going on around you, especially other skiers and riders. Being aware of those around and changing conditions will help you have a fun and safe day on the hill.

3. Plan Ahead
Ease up at blind spots, check uphill when merging onto trails, and give other skiers plenty of room when passing. Look out for spots on the run where traffic merges or you can't see what's coming next. If you are unfamiliar with a run, take it easy the first time down it and make note of places where you'll want to slow down, such as cat tracks and rollers. Also, give other skiers and riders lots or room, especially if you are passing them. There's plenty of space out there, so there's no need to crowd each other.

Those involved in a collision are required by law to remain at the scene, except to notify ski patrol for assistance.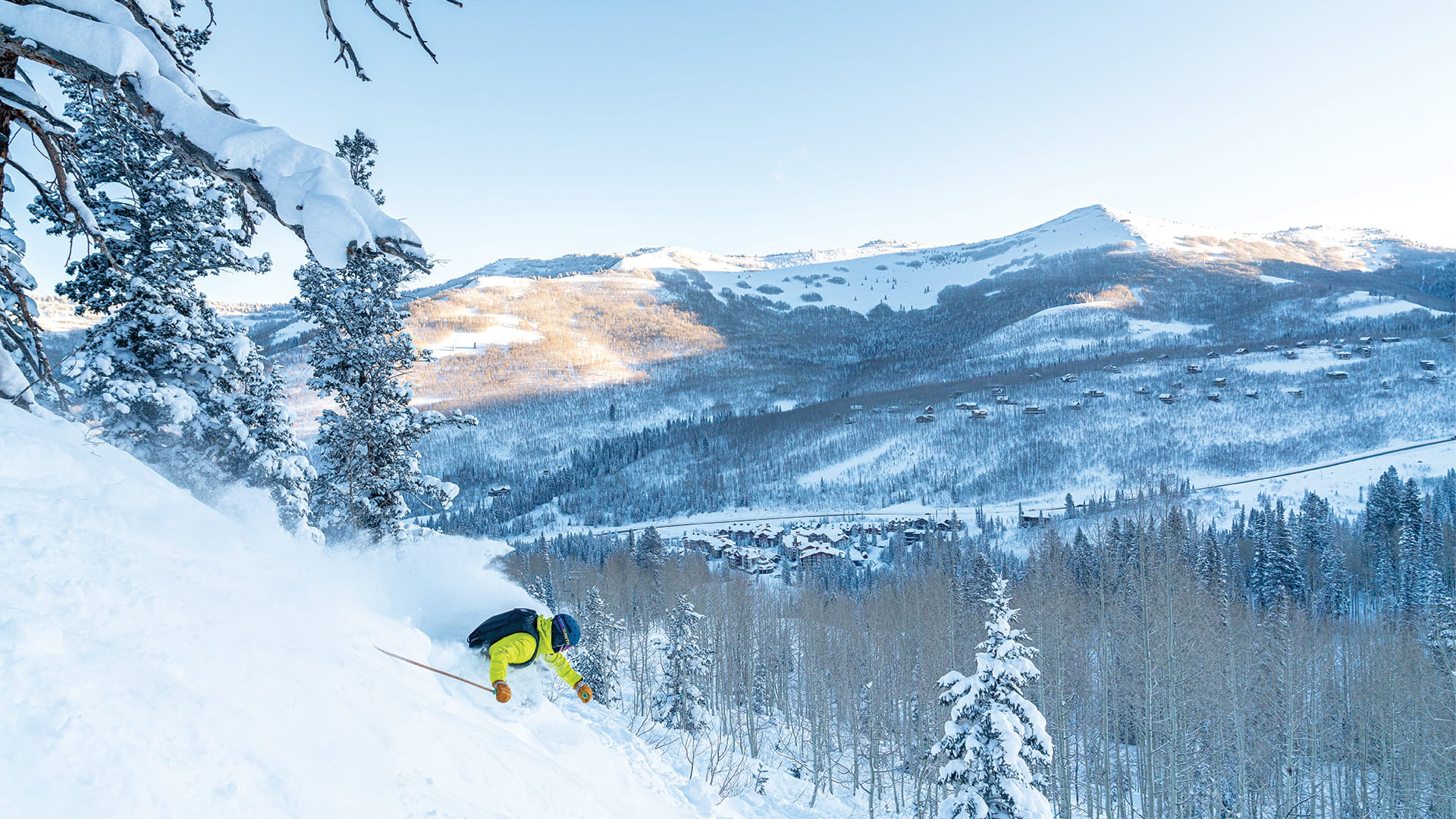 Tree Wells & Snow Immersion
If you venture into non-groomed terrain,deep snow or tree wells can expose you to the risk of snow immersion, injuries, or fatalities. Deep snow immersion accidents occur when a skier or snowboarder falls into an area of deep unconsolidated snow, such as a tree well, and becomes immobilized. Educate yourself on how to reduce the risks.

Ride or ski with a partner and keep your partner in sight at all times. Ski or ride in control. Give tree wells a wide berth. Look at the open spaces between trees not at the trees. Skiers should remove ski pole straps.

Carry safety equipment including:

• Cell phone with Solitude ski patrol emergency number: 801.536.5753
• Transceiver / beacon
• Whistle
• Shovel
• Probe
• Recco Reflector